Liz Wood is an experienced and creative newborn & maternity photographer
Maternity photography is becoming so popular. Bump shoots are about celebrating an amazing body growing a perfect little baby, and a reminder of the time that your little one was solely dependant on it's Mummy. Even if you don't feel you're glowing and are feeling a bit frumpy, I am experienced in positioning and photographing in flattering positions, coupled with my relaxed and extremely friendly personality – ensuring a fun photoshoot and stunning images. I have a gorgeous collection of maternity gowns, and offer stunning pregnancy photoshoots either in studio, or on location. Lifestyle maternity photography is also a passion of mine where the photos are taken in your home, recording your life and surroundings and are a wonderful reflection in years to come of the anticipation and love surrounding this new little addition to your family.
Cambridge, Suffolk, London & Essex milk bath & lifestyle bump shoots
Milk bath maternity shoot
Lifestyle maternity bump photos can include a beautiful safe flower and herb milk bath. I love these sessions, even  expecting a baby boy, colours can be changed, I think these sessions are so elegant and dreamy, I would have loved a session like this, and would certainly have an image on display. Milk bath photography is just stunningly beautiful. Milk bath & lifestyle bump shoots take place at your home.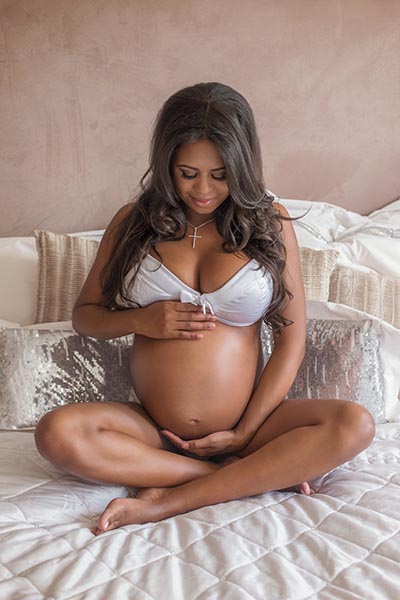 Ilford Maternity – Danni Park-Dempsey bump photos
In 2015 I was honoured to meet the very heavily pregnant Danni, Danni is a hugely succesful businesswoman now, and was the first black actress to appear in The Only Way is Essex. Danni looked stunning on her lifestyle maternity shoot, and I was delighted to capture the newborn photos for her as well.
Breastfeeding Photography Essex
Although opinion can be mixed on breastfeeding, and an awful lot is being done to raise awareness of the very mixed messages concerning women's bodies and the very negative reactions of some people towards breastfeeding mothers. A growing number of women now record this mammoth achievement usually as a personal record of nurturing their child. Breastfeeding is a huge and sometimes traumatic journey, Mum's whether they bottle or breastfeed should be celebrating just how incredible they are.
Location & outdoor pregnancy photos in Essex, Suffok, Cambridge & London
I love photographing at sunset and producing gorgeous dreamy soft lit images of glowing soon to be Mum's and their beautiful bumps. I frequently travel across London, Cambridge, Suffolk and Essex capturing beautiful maternity photos to treasure. The gowns and headpieces are all owned by me, the lovely WILD THISTLE PROPS make the majority of my gowns and halos.
A selection of the maternity gowns for maternity photographs
Most of the gowns come from Wild Thistle Props, the pink tulle gown comes with a long flowing train, and can be worn with the longer dress fully covering the body from the breasts down over the bump, or with a boob tube top so more of the belly is on show.
The red lace gown is sheer at the bottom – I recommend to my clients they bring something to cover themself over with, especially if they are self conscious. The lace gown is lace, and sheer so again, nice plain opaque underwear is usually worn. 
Danni Park-Demspeys maternity shoot Ilford
This image was taken in some beautiful woodland which looks down onto the heart of London's financial district. Danni was 38 weeks pregnant at the time of her shoot what a stunning Mummy to be she was.